CHALLENGE 
Capital was appointed the key supplier for LV Switchgear to upgrade the existing electrical infrastructure and accommodate the electrical supply to the future Technology building on the Dublin City University campus.
The project faced multiple difficulties, including strict delivery schedules, construction on a bustling campus, and the need for an uninterrupted electrical supply.
Our engineers had to consider the limited width and height of the switchroom during the design phase.
The biggest challenge, however, was ensuring that the existing and new substation arrangements constantly supplied electricity to all the buildings on campus that derived their electricity from these substations.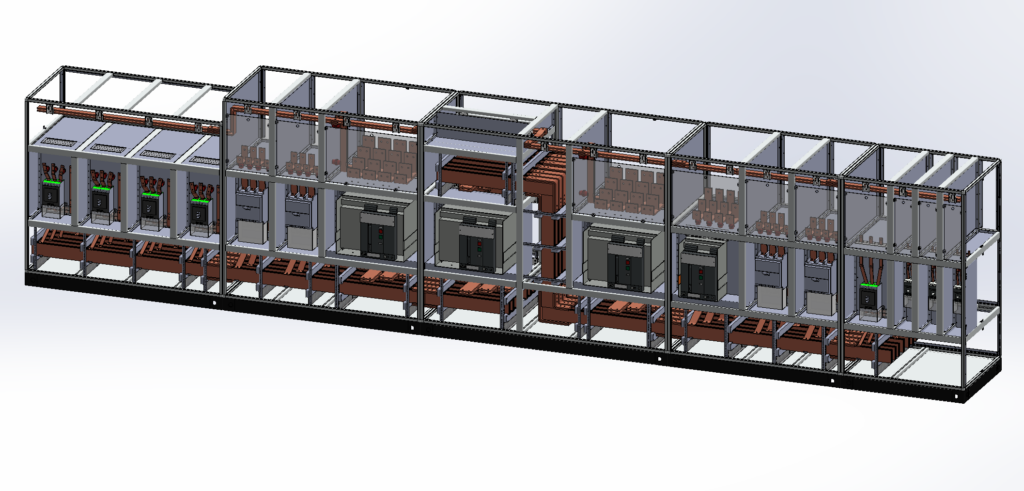 SOLUTION
Capital designed and manufactured a 4000 AMP main distribution board.
In order to provide an uninterrupted electrical supply, the installation was carried out in two phases.   Phase 1 included the a) isolation and protection of the infrastructure that needed to remain energised at all times, b) the existing lv switchgear that needed upgrading was coupled so that all submains were serviced by the energised transformer, and c) the new 4000Amp main distribution board was installed and connected to the new transformer, it was isolated for shutdown and each individual submain was modified, re-directed and re-terminated into the appropriate side of the new board.
During Phase 2, the new 4000Amp MDB was isolated and de-coupled from the energised side. The existing board was isolated for shutdown and each submain was modified, re-directed and re-terminated into the new MDB.
To resolve the space constraints of the switchroom, our engineers designed a stepped-shaped 4000Amp MDB. A simple but effective solution.
Prior to manufacturing the 4000Amp / 100kA Main Distribution Board, the engineers first created a 3D CAD model in Solidworks and a 2D schematic in Eplan. These models and drawings helped us accelerate our design process and improve efficiency in development costs. Our ultimate goal was to create a digital replica to ensure maximum production efficiency.
In addition, the Capital team carried out site modification requirements in-house by utilising modelling, which helped us avoid any potential downtime on-site.
The design includes all the components in the enclosure:
Busbar and copper work
ACBs
MCCBs
Controls
Interlocks
The MDB is manufactured with Elsteel TM modular enclosure, busbar system, Form 4B and cable entry/exit from top.
The switchgear is from ABB, including SACE Emax 2 Air-circuit-breaker and SACE Tmax Moulded-case circuit-breaker ranges.

TIMELAPSE VIEW 
Click on the video to view the timelapse filmed while manufacturing this 4000 Amp Main Distribution Board.